Your Liveaboard in Sudan

What we offer is the best boat, M/Y Andromeda. We are the fastest boat in the region, enabling us to reach even the most remote dive sites. M/Y Andromeda, the 5-star diving safari liveaboard, was built based on a unique design, meeting divers' and guests' every need. Spacious, tastefully decorated cabins with en-suite bathrooms, a roomy diningroom, salon, and sun deck make the diving safaris comfortable for everyone. The heart of the boat is the shisha room, reminiscent of the East where stories can be told every night in the shadow of the lingering delicious waterpipe smoke. A well-travelled, cohesive crew, speaking various languages, awaits all the guests who wish to dive and relax. See you onboard!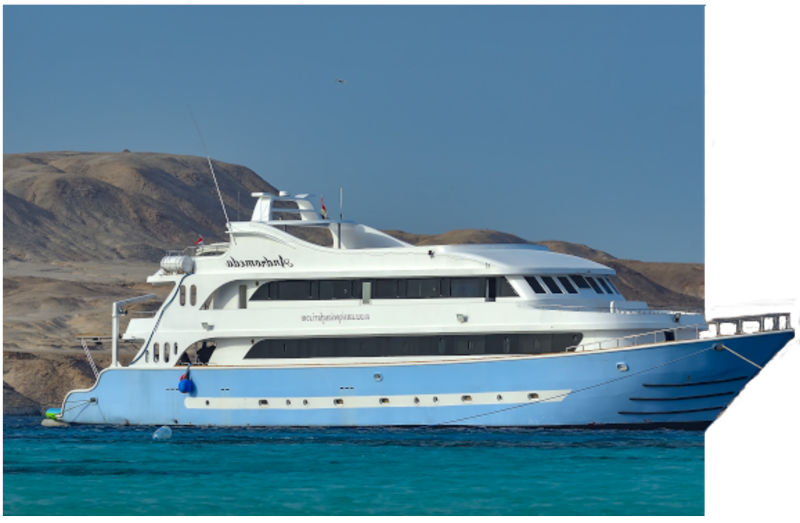 M/Y Andromeda's main characteristics

Capacity: Max. 26 guests in double cabins
Length: 40m
Hull: Steel
Cabins: With private bathrooms and air-conditioning
Living space: 4 levels, 100m2 sun deck
Zodiacs: 2
Nitrox: Membrane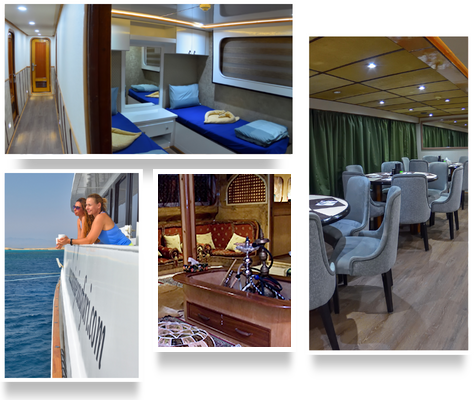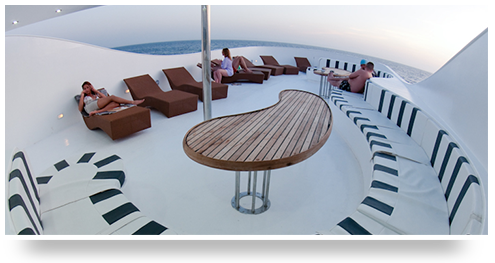 Twin-bed cabin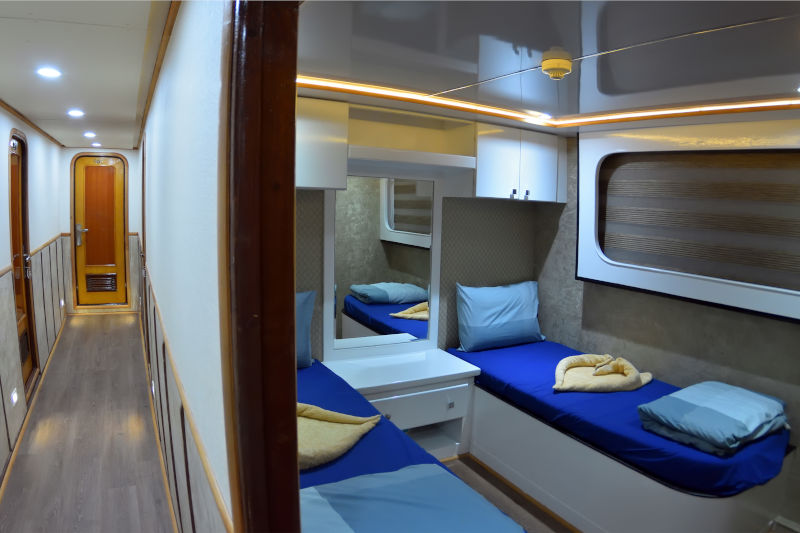 A perfect choice if you come alone or with your friend, to share a cabin (but not a bed). All twin-bed cabins are equipped with A/C, and an en-suite bathroom with sink, shower and toilet. There are 8 twin-bed cabins on Cassiopeia. Two are located on the main deck and 6 on the lower deck.
Famous dive sites of Sudan

Anyone who has ever dived in Sudan, never left disappointed. This is an awesome dive spot in the lesser known areas of the Red Sea. The marine life beneath the Sudanese Red Sea blows away even the most travelled and experienced divers! These waters amaze even hammerhead, reef shark, barracuda, and wreck lovers. The magnificent and untouched coral reefs also include the world famous Shaab Rumi where Cousteau conducted his experiments on how man could live under the water. And don't forget, Sudan is ultimately famous for its sharks.
Wreck of Umbria
Since Port Sudan used to be one of the most important ports in the world, there are numerous exciting wrecks waiting to be discovered. One of them is Umbria, a large Italian vessel that lies on the sea bottom about 1½km from Port Sudan. She lies at 25m at about a 45-degree angle and in low tide the tips of her two masts even peek out of the water for an easy dive. About 18 tons of ammunition and explosives lie still in her cargo holdings along with half a million of Maria Teresa coins. Originally she was on her way to Eritrea with her cargo but she happened to set anchor in Sudan when Italy declared war on the country. So the Sudanese occupied the boat and they were about to order the Italians off Umbria when they got the news that she was sinking.
Shaab Rumi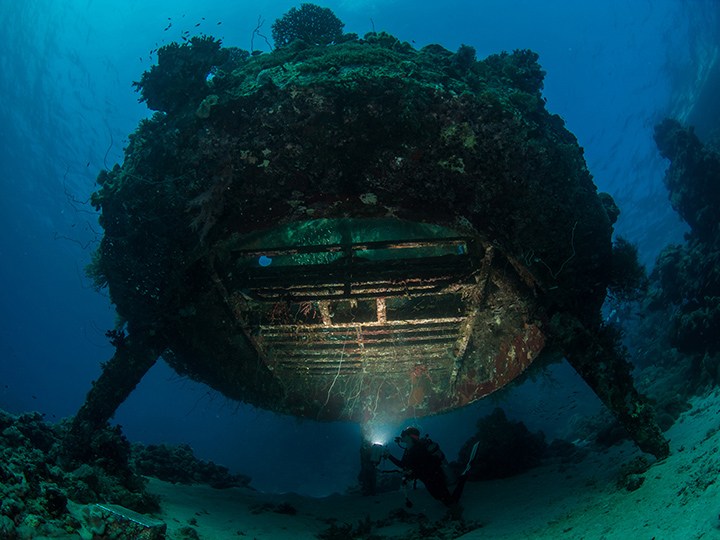 This reef lies 48km from Port Sudan and surrounds a gorgeous lagoon which can be accessed through a narrow strait having been blasted by Cousteau himself. Outside of the lagoon, just 100m from its entrance is where in 1963, Cousteau built Precontinent II, his futuristic world. Here he conducted his underwater experiments and today the site provides an insight into the lives of those who had lived under the water in futuristic looking buildings and conducted research on marine life. The cages used for shark feedings still lie where they used to in Cousteau's time. Sharks still come here as they did decades ago.
Sanganeb Atoll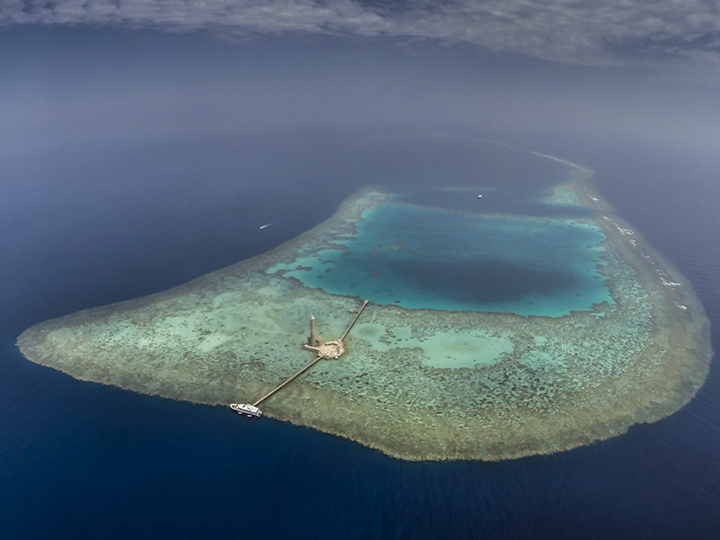 Sanganeb Atoll is the only atoll in the Red Sea. An atoll sometimes called a coral atoll, is a ring-shaped coral reef including a coral rim that encircles a lagoon partially or completely. Sanganeb Atoll was the first marine national park to be gazetted in Sudan in 1990. The only atoll in the Red Sea, Sanganeb has one of the most unique reef structures in the whole Red Sea whose steep slopes rise from a sea floor more than 800m deep. Sangeneb is renowned among divers as one of the best diving spots in the world. The park is known for its richness of marine life and breathtaking underwater vistas, hosting at least 300 fish species including numerous endemic and rare species of sharks, dolphins, marine turtles, and a good representation of other invertebrates such as molluscs.
Need to know about diving in Sudan
Diving season: From February until May. The weather is still cooler and windy until February, and by the end of May both air and water temperatures become too hot for man and animal, and most of the large fish migrate to the south.
Marine life: Hammerhead sharks, reef sharks, schools of barracuda, turtles, countless soft and hard corals, large schools of fish in the form of colourful giant balls, mantas, dolphins, and the list just goes on…
Wrecks: Umbria, Precontinent II (Conshelf, scooter hangar, multi-level cylinder-shaped station, deep cabin at 30m, and at 10m, a starfish-shaped house).
Routes:North, Ultimate Sudan, South, 1-week Deep South, 2-week Deep South.
Most famous dive sites: Shaab Rumi, Shaab Rumi south plateau, wreck of Umbria, Sanganeb, Shaab Jibna, Shaab Ambar.
Travelling there: From your country of residence to Port Sudan via various cities, such as Dubai, Cairo, Jedda, Khartoun, Istanbul.
Sudanese visa: May be arranged at the Sudanese Embassy or Consulate in your country of residence, or through our office in Port Sudan.
The best choice of liveaboards: M/Y Andromeda (info@cassiopeiasafari.com)
Schedule 2023
| Date | Itinerary | Price | Availabilities |
| --- | --- | --- | --- |
| 18/03/2023 - 25/03/2023 | Ultimate | E-mail | FULL |
| 25/03/2023 - 01/04/2023 | North | E-mail | 4 free places |
| 01/04/2023 - 08/04/2023 | Ultimate | Special promotion | 10+ free places |
| 08/04/2023 - 22/04/2023 | Deep South 2 weeks | E-mail | 2 free places |
| 22/04/2023 - 29/04/2023 | Ultimate | E-mail | FULL |
| 29/04/2023 - 13/05/2023 | Deep South 2 weeks | E-mail | FULL |
| 13/05/2023 - 20/05/2023 | North/Ultimate | E-mail | FULL |
Price list
BASIC TOUR EXPENSES
1. Boat rate
2. Fuel surcharge: 150 EUR/person/week
3. Sudanese taxes
4. Marine park fee: 30 USD/trip
5. Sudanese visa fee
Itineraries
Retail boat price
(per person in EUR)
North
all the way to Abington, including Umbria, Shaab Rumi, Precontinent II,
Sanganeb, Shaab Suedi, Gota el Bana, Angarosh, Abington
1,190
Ultimate
including Umbria, Shaab Rumi, Precontinent II, Shaab Ambar, Sanganeb,
Pinnacle Reef, Keary Reef, Jibna Reef
1,350
Deep South
including, Jibna Reef, Dahrat Qab, Darraka, Karam Masamirit, Loka
Island, Miyum, Shaab Ambar, Dahrat Abid
1,350
2 weeks Deep South
including Umbria, Bara Musa, Dahrat Abid, Dahrat Qab, Karam Masamirit,
Shaab Ambar, Sanganeb, Shaab Tawil, Shaab Jibna, Shaab Loka, Miyum,
Pinnacle Reef, Protector Reef, Keary Reef, Ed Domesh Shesh Island
2,700
Boat rates include
Addiotional and/or optional expenses

7/14 nights full-board accommodations onboard in double cabins
Buffet-style meals 3 times a day, fruits, and snacks
Unlimited drinks (mineral water, tea, coffee, soft drinks)
English-speaking dive guide services
Diving: 2-3 day dives a day + 1 night dive
Boat permissions
One 12l aluminum tank / person (DIN connection recommended), weights
Bed linens and towel use
Free WiFi where coverage is available

Airplane tickets, hotel stays, extra transfers
Visas and airport/tourism/government taxes/marine park fees
Single-cabin surcharge: 75% of the individual boat rate (subject to availability)
Upper-cabin surcharge: EUR80/person/week (subject to availability)
Аlcoholic beverages (limited supply)
Equipment rental (not available)
15l steel tank rental: EUR55/tank/week or EUR40/tank/week prepaid (upon request)
Nitrox: EUR90/week/person or EUR70/week/person prepaid
Satellite phone use: EUR5/minute
Personal expenses
Lost towel fee: EUR10/towel, lost weight fee
Crew service fee ( min. EUR10/day/guest is recommended)
Travel and diving insurance
All other expenses not mentioned above
SUDANESE TAXES AND FEES per person*
As per present Sudanese Government Regulations and are subject to change
Length of stay
Sudanese taxes and fees (EUR)
Sudanese taxes and fees include
1 week
215

Tourism fee
Sudanese agent fee
Port Sudan airport assistance
Transfers between airport and boat

1+1 weeks
280
2 non-stop weeks
306
*Taxes and fees, and marine park fees are payable in full in advance on the invoices.
*Visa fees are payable in full in cash (exact amount) onboard upon arrival if you order from us.