Your Liveaboard in Sudan
What we offer is the best boat, M/Y Andromeda. We are the fastest boat in the region, enabling us to reach even the most remote dive sites. M/Y Andromeda, the 5-star diving safari liveaboard, was built based on a unique design, meeting divers' and guests' every need. Spacious, tastefully decorated cabins with en-suite bathrooms, a roomy diningroom, salon, and sun deck make the diving safaris comfortable for everyone. The heart of the boat is the shisha room, reminiscent of the East where stories can be told every night in the shadow of the lingering delicious waterpipe smoke. A well-travelled, cohesive crew, speaking various languages, awaits all the guests who wish to dive and relax. See you onboard!
M/Y Andromeda's main characteristics

Capacity: Max. 26 guests in double cabins
Length: 40m
Hull: Steel
Cabins: With private bathrooms and air-conditioning
Living space: 4 levels, 100m2 sun deck
Zodiacs: 2
Nitrox: Membrane
Twin-bed cabin
A perfect choice if you come alone or with your friend, to share a cabin (but not a bed). All twin-bed cabins are equipped with A/C, and an en-suite bathroom with sink, shower and toilet. There are 8 twin-bed cabins on Cassiopeia. Two are located on the main deck and 6 on the lower deck.
Queen-bed cabin
An optimal choice for couples who do not only enjoy diving, but also each other's company. All double-bed cabins have A/C, and an en-suite bathroom with sink, shower and toilet. Two cabins are located on the main deck, toward the bow of the boat, and two on the lower deck.
Dining room
We have our buffet-style breakfast, lunch, and dinner in the air-conditioned dining room, at tables set for 5-6 persons. When assembling our menu, we do our best to think of guests who are fond of meats, those who love fish, and of vegetarians as well.
Salon
The spacious lounge area is air-conditioned and comfortably furnished. It is well equipped with an LCD TV, DVD and CD player, and media box. A USB port allows to connect media devices as well.
Sun deck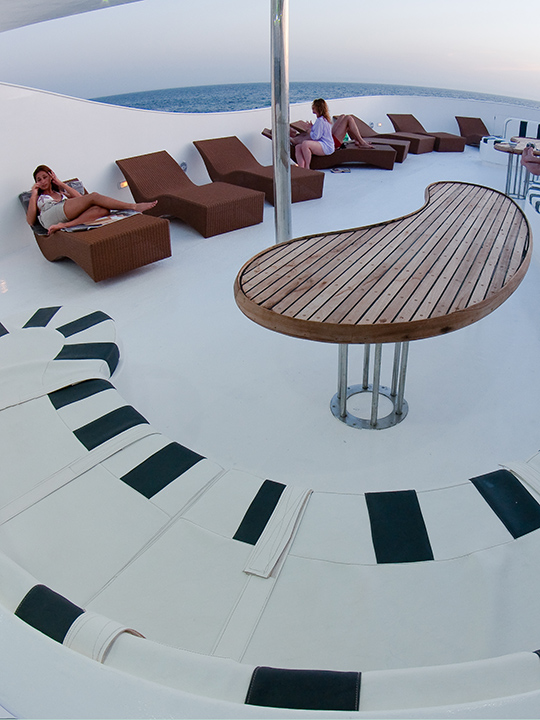 The comfortable 100m2 sun deck provides plenty of space for sun seekers, as well as a shaded area. Comfortable deck chairs and cushioned seats make time spent up here more pleasant.
Famous dive sites of Sudan

Anyone who has ever dived in Sudan, never left disappointed. This is an awesome dive spot in the lesser known areas of the Red Sea. The marine life beneath the Sudanese Red Sea blows away even the most travelled and experienced divers! These waters amaze even hammerhead, reef shark, barracuda, and wreck lovers. The magnificent and untouched coral reefs also include the world famous Shaab Rumi where Cousteau conducted his experiments on how man could live under the water. And don't forget, Sudan is ultimately famous for its sharks.
Wreck of Umbria
Since Port Sudan used to be one of the most important ports in the world, there are numerous exciting wrecks waiting to be discovered. One of them is Umbria, a large Italian vessel that lies on the sea bottom about 1½km from Port Sudan. She lies at 25m at about a 45-degree angle and in low tide the tips of her two masts even peek out of the water for an easy dive. About 18 tons of ammunition and explosives lie still in her cargo holdings along with half a million of Maria Teresa coins. Originally she was on her way to Eritrea with her cargo but she happened to set anchor in Sudan when Italy declared war on the country. So the Sudanese occupied the boat and they were about to order the Italians off Umbria when they got the news that she was sinking.
Shaab Rumi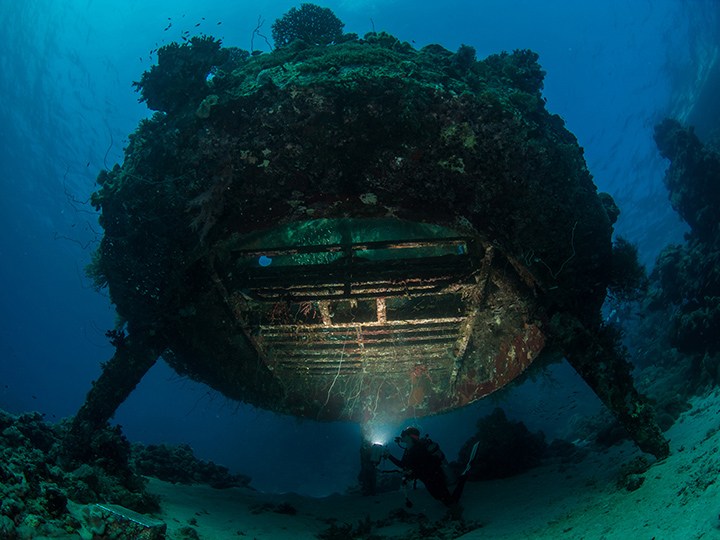 This reef lies 48km from Port Sudan and surrounds a gorgeous lagoon which can be accessed through a narrow strait having been blasted by Cousteau himself. Outside of the lagoon, just 100m from its entrance is where in 1963, Cousteau built Precontinent II, his futuristic world. Here he conducted his underwater experiments and today the site provides an insight into the lives of those who had lived under the water in futuristic looking buildings and conducted research on marine life. The cages used for shark feedings still lie where they used to in Cousteau's time. Sharks still come here as they did decades ago.
Sanganeb Atoll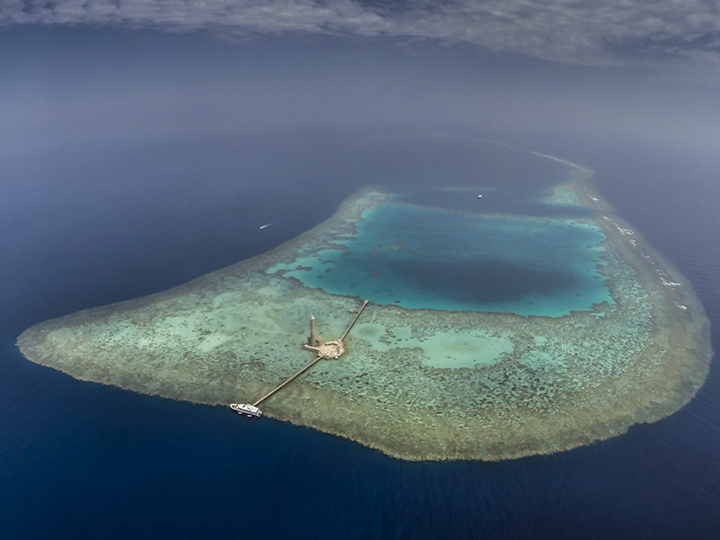 Sanganeb Atoll is the only atoll in the Red Sea. An atoll sometimes called a coral atoll, is a ring-shaped coral reef including a coral rim that encircles a lagoon partially or completely. Sanganeb Atoll was the first marine national park to be gazetted in Sudan in 1990. The only atoll in the Red Sea, Sanganeb has one of the most unique reef structures in the whole Red Sea whose steep slopes rise from a sea floor more than 800m deep. Sangeneb is renowned among divers as one of the best diving spots in the world. The park is known for its richness of marine life and breathtaking underwater vistas, hosting at least 300 fish species including numerous endemic and rare species of sharks, dolphins, marine turtles, and a good representation of other invertebrates such as molluscs.
Itineraries
North Trip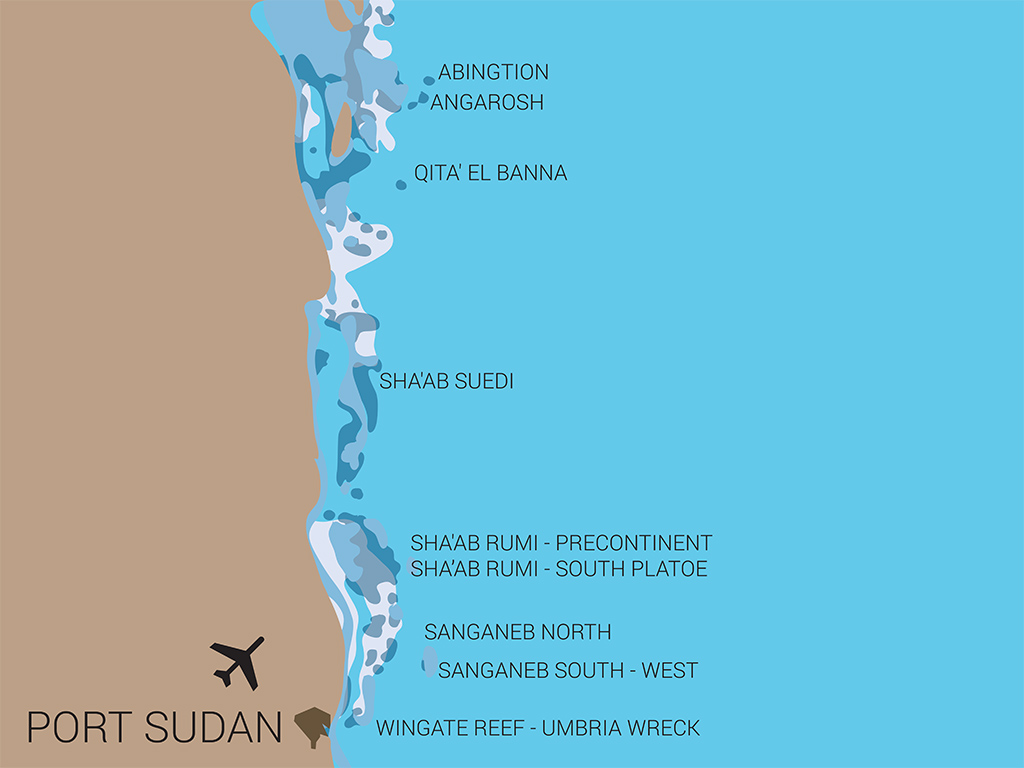 This special route is offered by only a handful of liveaboards, so it is a favourite among divers who prefer to dive away from the crowds. This peaceful "neighbourhood" is also home to most of the sharks in these parts. This itinerary covers a large area and includes excellent dive sites all the way as far north as Angarosh or Abington. Hundreds of barracuda swarm amongst the brilliant cherry- and purple-coloured gorgonians (sea whip corals) alongside of a colourful array of fish, and of course, hammerheads. One of the sites on this route is Umbria, the wreck of an Italian cargo ship that lies at 25 metres on the sea floor, still laden with close to 18 tons of ammunition and explosives. She is home to schools of barracuda, spiny fish species, butterflyfish, and myriads of red tropical coral fish.

Possible dive sites: Gurna, Angarosh, Merlo Reef, Shambaia, Gotta el Bana, Shaab Rumi, Shaab Rumi south plateau, Sanganeb, wreck of Umbria
South Trip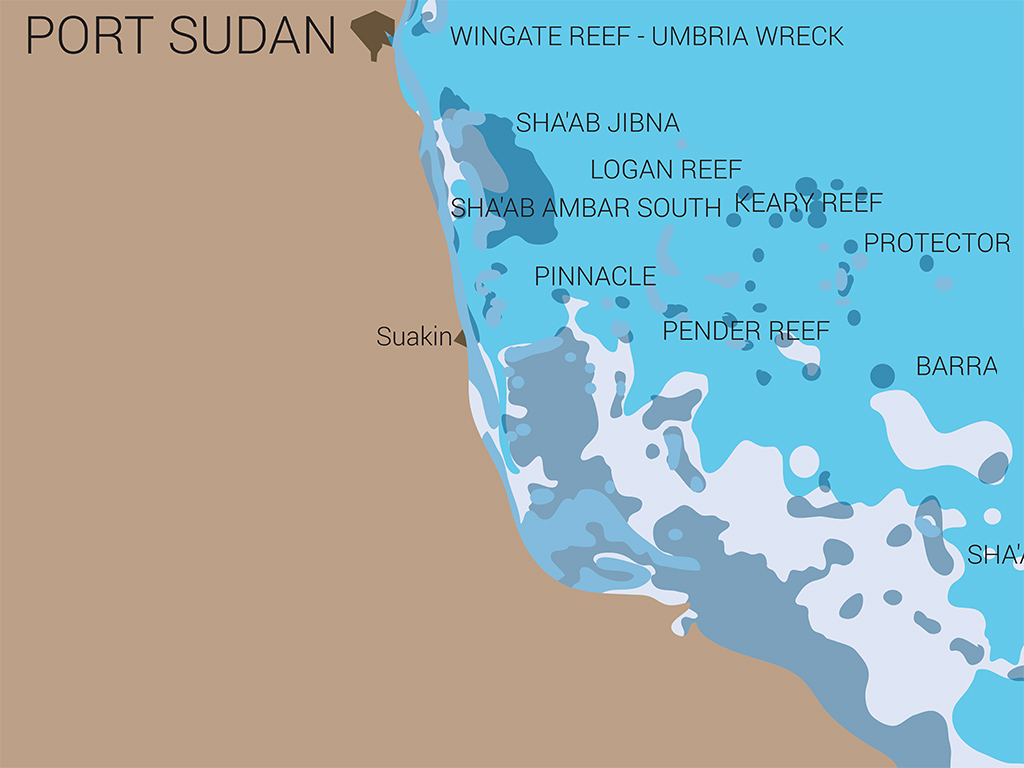 This itinerary is for advanced divers who are up for a challenge. We visit the best of the southern sites, promising an unforgettable experience. Most islands and reefs are actually peaks of deep underwater structures that provide a perfect location for various species of sharks, tuna, and barracuda. Shaab Jibna, Shaab Ambar, Keary Reef and Protector Reef entice with spectacular dives. Shaab Jibna (sometimes spelled Jumna) is a quaint dive site with caves and reef walls where fish dart through the crevices with hammerhead sharks cruising nearby.

Possible dive sites: Shaab Jibna, Shaab Ambar, Pinnacle, Keary Reef, Logan Reef, Pender Reef, Protector, Preserver Reef, Burkut Island, Hidi Gidir, wreck of Umbria
Ultimate Trip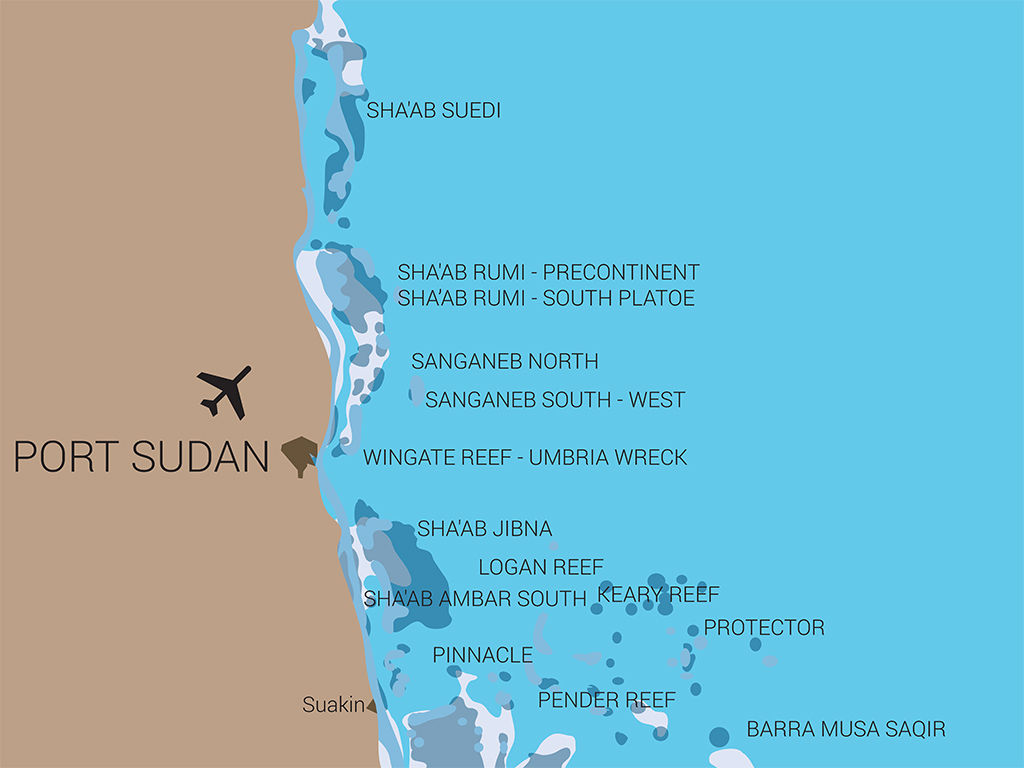 This itinerary is the exciting combination of dive sites from the northern and southern parts. This is the perfect route for those who have not dived in Sudan before because they can sample the best of both regions. Sanganeb, Sudan's first national park, boasts an abundant marine life that includes over 120 coral species. Shaab Jibna (sometimes spelled Jumna) is a quaint dive site with caves and reef walls where fish dart through the crevices with hammerhead sharks cruising nearby. Cousteau conducted his underwater experiments at Shaab Rumi which is a shallow reef with steep walls. Shaab Rumi is especially famous for its various shark species, and this is the best place to meet up with hammerhead sharks during the spring season. The wreck of Umbria is protected by Wingate Reef. The Italian cargo ship is over 150m long and she is still harbouring her military cargo (bombs, ammunition, detonators) from WWII.

Possible dive sites: Sanganeb, Shaab Jibna, Shaab Ambar, Shaab Rumi, Shaab Rumi south plateau, wreck of Umbria
Deep South Trip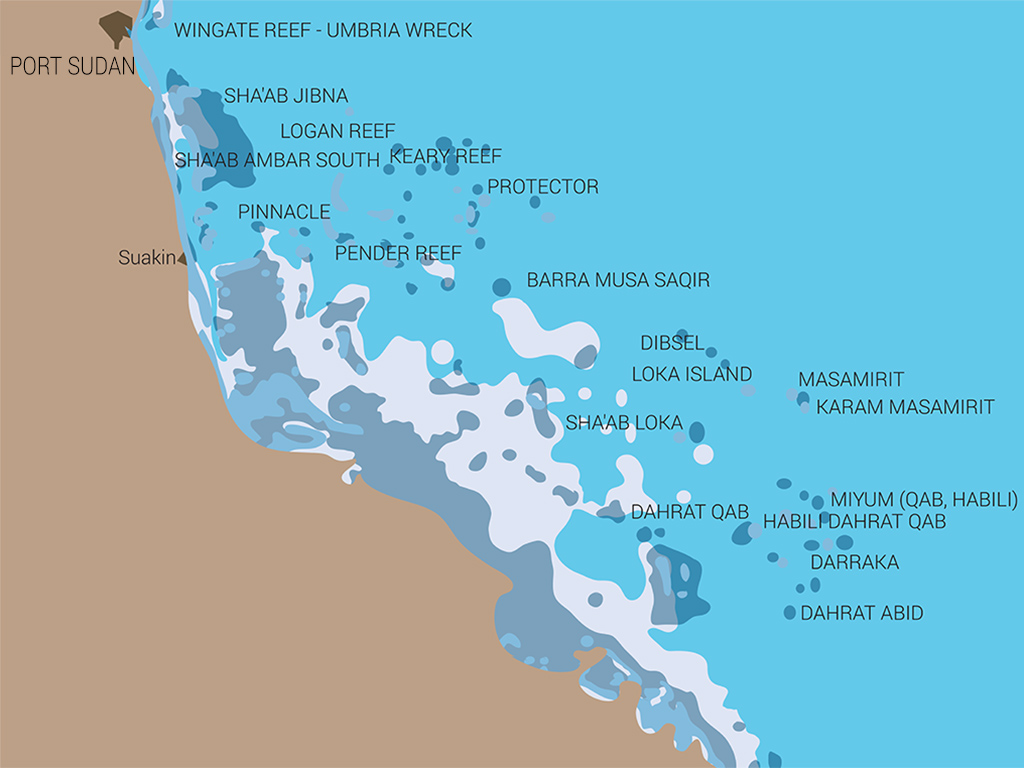 We recommend this route to divers who have been to Sudan before and would like to see even more of her, as well as to those advanced and experienced divers who would like to be part of a true adventure. During this very unique tour we sail southward all the way to Dahrait Abid, close to the Eritrean border, and we visit sites like Masamirit, Barra Mussa, the reefs of Keary, Pender, Logan and Protector, Shaab Ambar, and Umbria, among the many. The pristine waters and the mostly undiscovered sites hide a wondrous marine life and astounding shark sightings. Only a couple of liveaboards dare to attempt to sail this route, making this a truly one-of-a-kind diving trip. We only recommend it to advanced divers.

Possible dive sites: Shaab Jibna, Shaab Ambar, Keary Reef, Logan Reef, Protector Reef, Preserver Reef, Barra Musa Saghir, Karam Masamirit, Ghab Abi Island, Dahrat Qab Island, Qab Miyum, Dahrat Abid, Dahrat Ed Dak Hilat, Ed Domesh Shesh Island, Shaab Loka, Barra Musa Kebir, Shaab Tawil, Nakhalat Pinnacle, Pender Reef, wreck of Umbria
Need to know about diving in Sudan
Diving season: From February until May. The weather is still cooler and windy until February, and by the end of May both air and water temperatures become too hot for man and animal, and most of the large fish migrate to the south.
Marine life: Hammerhead sharks, reef sharks, schools of barracuda, turtles, countless soft and hard corals, large schools of fish in the form of colourful giant balls, mantas, dolphins, and the list just goes on…
Wrecks: Umbria, Precontinent II (Conshelf, scooter hangar, multi-level cylinder-shaped station, deep cabin at 30m, and at 10m, a starfish-shaped house).
Routes: North, Ultimate Sudan, South, 1-week Deep South, 2-week Deep South.
Most famous dive sites: Shaab Rumi, Shaab Rumi south plateau, wreck of Umbria, Sanganeb, Shaab Jibna, Shaab Ambar.
Travelling there: From your country of residence to Port Sudan via various cities, such as Dubai, Cairo, Jedda, Khartoun, Istanbul.
Sudanese visa: May be arranged at the Sudanese Embassy or Consulate in your country of residence, or through our office in Port Sudan.
The best choice of liveaboards: M/Y Andromeda
Schedule 2021
| Date | Boat | Itinerary | Price | Places |
| --- | --- | --- | --- | --- |
| 2021 | | | | |
| 13/03/2021 - 20/03/2021 | Andromeda 5* | Sudan - North tour | E-mail | 10 free |
| 20/03/2021 - 27/03/2021 | Andromeda 5* | Ultimate | E-mail | 14 free |
| 27/03/2021 - 03/04/2021 | Andromeda 5* | Sudan - North tour | E-mail | 26 free |
| 05/04/2021 - 19/04/2021 | Andromeda 5* | Sudan - Deep South tour, two weeks | E-mail | 10 free |
| 19/04/2021 - 03/05/2021 | Andromeda 5* | Sudan - Deep South tour, two weeks | E-mail | 6 free |
| 03/05/2021 - 10/05/2021 | Andromeda 5* | Sudan - Deep South tour | E-mail | 12 free |
| 10/05/2021 - 17/05/2021 | Andromeda 5* | Ultimate | E-mail | 10 free |
| 17/05/2021 - 24/05/2021 | Andromeda 5* | Sudan - North tour | E-mail | 26 free |